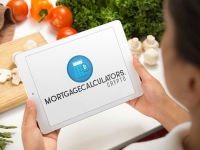 Uply Media, Inc Launches World's First DWeb Mortgage Calculator
A new decentralized website that functions as a mortgage calculator in addition to a smart contract on the Ethereum Blockchain published on the Interplanetary File System (IPFS).
FOR IMMEDIATE / URGENT RELEASE
(Alpharetta, Georgia) – Want to know how much house you can afford? Over 80% of homeowners use mortgage calculators to make buying decisions. Uply Media, Inc today announced MortgageCalculators.Crypto, the world's first decentralized website mortgage calculator that sits on top of a smart contract on the Ethereum Blockchain published on the Interplanetary File System (IPFS) is now online.
MortgageCalculators.Crypto is a new decentralized DWeb website that works like a mortgage calculator and is based on a smart contract. Allowing for many future scalability features.
Mortgage borrowers can use a decentralized platform to estimate monthly mortgage payments with taxes, insurance, PMI, HOA fees, and more. Including calculating an amortization schedule table to determine the process of paying down a debt over time through regular payments.
The goal of the Interplanetary File System is a peer-to-peer hypermedia protocol designed to make the Web faster, more secure, and more openly accessible to everyone. The decentralized web is the third iteration of web technology known as Web 3.0, enabling true peer-to-peer transactions without intermediaries.
"This is a tremendous opportunity to implement lifestyle use with Blockchain technology for the mortgage industry. Our company is also looking to work with advertising partners interested in decentralized marketing reach," said Kyle Ransom, CEO and co-founder of Uply Media, Inc.
Ransom is also the author of Blockchain Domains Investing Secrets: Tap Into Cryptocurrency Bitcoin, Crypto-Assets New Internet and Digital Asset Class, Marketplace Worth Trillions, available on Amazon Kindle and in paperback. His book was named one of BookAuthority's Top 15 New Cryptocurrency Investing e-Books to Read in 2020, as Featured on CNN, Forbes and Inc – BookAuthority identifies and rates the world's best books, based on public mentions, recommendations, ratings and sentiments.
https://bookauthority.org/books/new-cryptocurrency-investing-ebooks
A mortgage calculator from a decentralized website responds to growing demands to improve the mortgage process. The .Crypto extension can be accessed from the Unstoppable Domains Browser. In addition to the Opera browser reaching 80 million users and Opera, iOS and Android apps reaching an exposure of 232 million users.
Please visit MortgageCalculators.Crypto to experience the use of the world's first decentralized website mortgage calculator. Contact Uply Media, Inc directly to learn more about becoming a Decentralized Ad Marketing Partner.