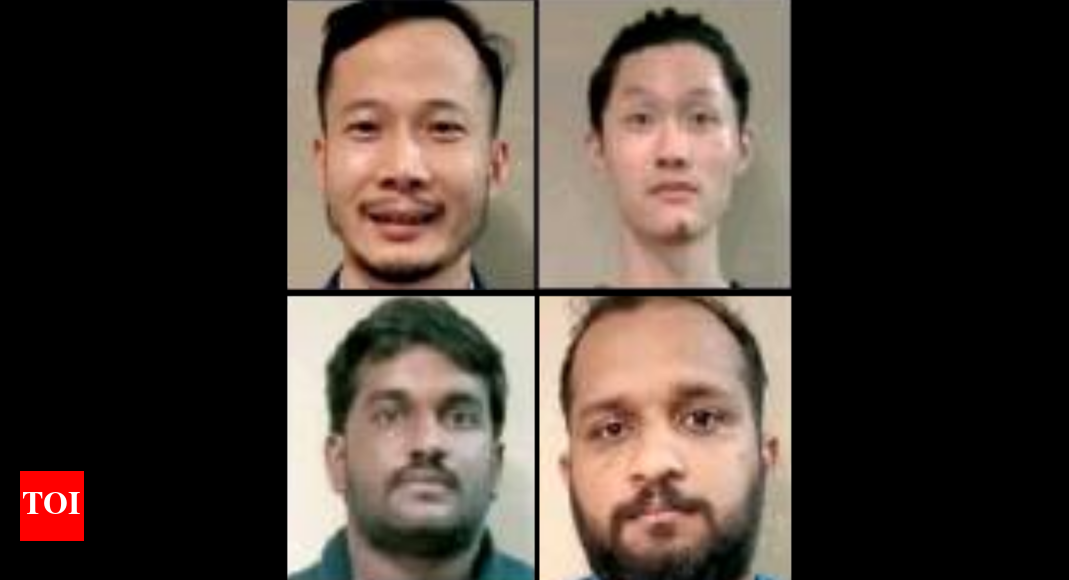 Chinese lending app got 1,600 SIM cards from Chennai, Bengaluru | Chennai News
Xia Ya Mau, Yuvan Lun, CR Pavan and S Pramoda (clockwise from top left)
CHENNAI: Investigators investigating the illegal microfinance racketeering case in which four people, including two Chinese nationals, were arrested in Bangalore on January 1 have found that Xia Ya Mau, 38, and Yuvan Lun, 28 , had obtained 1,100 SIM cards from a private company in Bangalore and 500 SIM cards from an agency in Chennai.
While Hong and Wandish, also Chinese nationals, fled to Singapore, S Pramoda, 28, of Doopanahalli and CR Pavan of Chikkanahalli, "directors" of Bengaluru-based True Kindle Technologies Solutions Private Limited, are in jail with Xia and Yuvan.
An investigator said the Chinese took ₹1 crore from the company's bank account in Bengaluru before the police were tipped and froze ₹1.96 crore and ₹48 lakh in ICICI and RBL Bank in Bengaluru.
Pramoda and Pavan told investigators they came across an online advertisement posted by the Chinese asking them to set up a call center in Bengaluru. "Their role was to register a business and recruit callers. Over 100 callers were recruited for ₹8,000 per month and received a target of 10 loan referrals per day," a CCB officer said. Their job was to make abusive phone calls to defaulting customers and to shame them by sending messages to all their contacts," the officer said.
A few months ago, the Chinese enlisted the Chennai agency which provided them with around 500 SIM cards in its name. Detectives from the Central Crime Branch interview an agency official.
While surveys have found Chinese people use around 47 mobile apps to lure people in, investigators have so far collected information on less than a dozen apps. The mobile apps have provided loans to over a million people across India at interest rates of up to 36%. Police plan to take the four arrested into custody for further questioning. And will seize the Tambaram district court concerned soon.
FacebookTwitterLinkedInE-mail